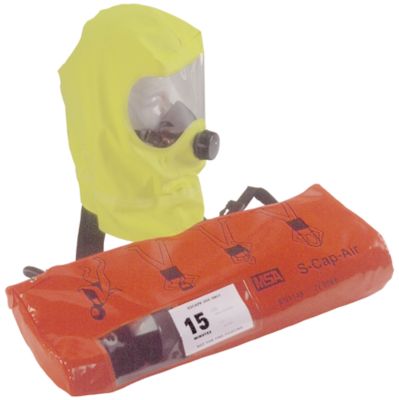 S-Cap-Air
This compressed-air emergency escape device provides 15 minutes of life-saving respiratory protection in extremely toxic or oxygen-deficient environments. Featuring fast, automatic activation, fluorescent protective carrying bag, and three liters of 200 bar compressed air, this device is ideal for use on ships, off-shore oil rigs, refineries, water utilities and confined spaces.
SSR 30/100
This small, robust KO2 respiratory device delivers safe and immediate oxygen on demand for escape or rescue. Packed airtight in a stainless steel container, this lightweight device is designed to be worn on a belt for easy opening and use. Dons in seconds. The TR device allows quick and economic training of donning and use by simulating the weight and properties of real units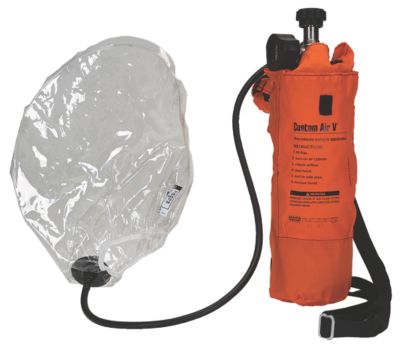 Custom Air V® Escape Respirator
Escape toxic gasses, vapors or oxygen deficiency with this quick-use, hooded emergency respirator. Features a high flow rate of 72 liters per minute (lpm) and a continuous flow of air from the compressed air cylinder. The flexible urethane hood reduces fogging and fits over eyeglasses and facial hair. Lightweight and easy to carry, the unit also mounts on a wall, as needed.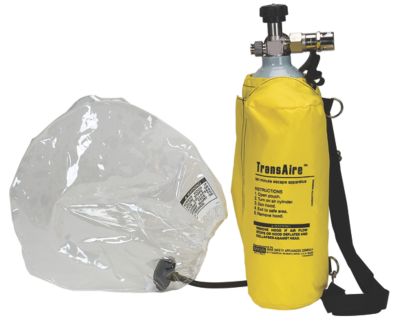 TransAire® 5 and TransAire® 10 Escape Respirator
These self-contained devices help personnel escape dangerous and deadly atmospheres, including those with high concentrations of toxic gases or vapors or oxygen deficiency. Low profile, lightweight, and easy to carry, these escape respirators feature one-control operation for a swift exit.