ArcSafe® Harnesses
Maintenance and utility workers are protected from the hazard of high-energy electric arc flash while wearing ArcSafe® Harnesses. This harness may also be used for retrieval from a confined space. The nylon web loop that is included adds comfort by reducing overall harness weight and also reduces potential of electrical arc to harness. The Y-Shaped back web adds additional comfort and adjustability.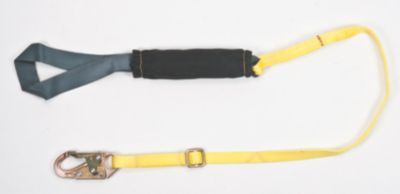 ArcSafe® Energy-Absorbing Lanyard
Providing electrical arc flash protection, ArcSafe® Lanyards use a tear-tape design to keep fall arrest forces below 900 lbs. ArcSafe® Energy Absorbing Lanyards connect the back (dorsal) D-ring of MSA full-body harnesses to a qualified anchorage and anchorage connector.